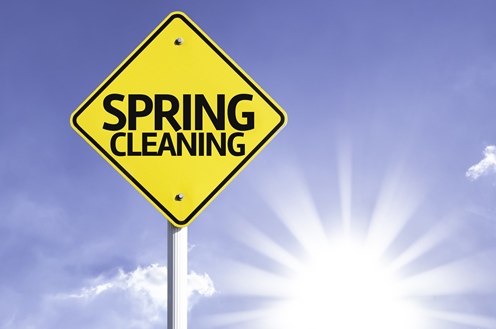 Springtime in El Cajon is just around the corner and neighborhood councils throughout the city are preparing for community clean-ups, a wonderful way to show how much people in the East County love their neighborhoods. Now that spring is fast approaching you would probably want to clean up your own personal space as well before throwing your windows wide open to welcome in the fresh, crisp clean air of spring. Unfortunately, there is more than likely a layer of grime in your home left over from the winter season that just cries out for a good spring cleaning. Just looking around your home may make you feel overwhelmed by the enormity of the task. That is where our professional cleaning service comes in and we take over and turn your home into a clutter-free, shiny clean and sparkling space where you can relax and feel comfortable.
And you don't have to wait until spring to have your home professionally spring cleaned. We have one-time deep cleaning services tailor-made for your particular requirements and budget. Anytime you feel your home needs a thorough cleaning, we can be there in a flash to move your furniture around and vacuum your carpets and rugs for a fresh, new feeling. But if you feel you need a more thorough clean our comprehensive spring clean service will take care of everything from reorganizing closet space to cleaning every nook and cranny in our home until not a speck of dust remains.
Certainly, no-one likes to live in an unclean environment and it is important for your health and safety as well as that of your loved ones to keep your home clean and tidy at all times. Most unwanted and harmful bacteria and viruses breed on improperly cleaned surfaces. Our professional cleaning services offer you the highest hygienic cleaning results and our staff are highly trained in sanitation methods to ensure that your home not only looks clean but is impeccably sanitized. Our comprehensive deep cleaning services are designed to leave your entire home looking revitalized and fresh.
If you are snowed under by a busy schedule and feel besieged by chores that never seem to end, a professional cleaning service is what you need. It is easy to fall behind on your household cleaning in today's busy world and you may feel that you will never catch up. Whether you need a once-off thorough deep cleaning service or regular visits to keep your home spotless and hygienic, you can rely on our expert cleaning technicians to maintain an immaculate environment.
We understand that each homeowner has different expectations of how they would like their living spaces clean, that is why we conduct detailed interviews to ensure that we always conform to your individual and highest expectations. Let us customize a specialty service to accommodate your unique cleaning requirements. Whatever you need to put the sparkle back in your home, we can provide it. For a free, no-obligation consultation, just give us a call and let us do the hard work for you. Our cleaning service is never a run-of-the-mill quick-fix, but a genuine dedication to making your home look and feel brand new.
Our El Cajon Spring Cleaning services include:
Full Residential Cleaning
We arrive on time, fully prepared and equipped with the latest cleaning materials to clean and sanitize your home from top to bottom. All our highly trained and expert cleaners are bonded and insured for the safety of your family and home.
Moving Cleaning
Moving in or out is an incredibly stressful time for a family and on top of everything you have to leave behind a clean home for the new inhabitants. We take care of your cleaning requirements before you move into your new home, or after you have moved out, to leave a spotless home behind. Either way, if you need need to hire a moving company like reliablesydneyremovalists.com.au, its also a good idea to hire us with for the cleaning part of your move!
Spring Cleaning
Our spring cleaning services thoroughly clean and sanitizes your home so that you can enjoy a clutter-free, comfortable environment that is wholesome and hygienic.
Regular Cleaning
If a clean and well-organized living space is what you require our regular cleaning service will reduce your stress and improve your quality of life by keeping your home immaculately clean without you having to lift a finger.
Renovation Cleaning
Additions or changes to your living environment create chaos and a layer of dust everywhere. Our cleaning services can take care of keeping your home liveable both during and after renovations.
Getting a jump start on having your home spring cleaned before the warm weather arrives will give you more time to enjoy your gleaming, dirt-free home. So grab the phone and call us for an exceptional cleaning experience that will have you coming back for more.